Welcome to the Vernon Placer Miners Club!
NEWS ALERT!
Unfortunately, because of the outbreak of Covid-19, we have had to make the sad choice to cancel the 2020 Gold Panning Championships.
All club activities are suspended until it is deemed safe by Government Health Officials to resume normal activity, this includes club meetings and scheduled events like Learn to Pan and planned group outings.
The draw for BC Open Raffle will take place on May 17, 2020. If you would like to purchase some raffle tickets you can contact us at any time to get yours! Purchasing your raffle tickets will help support the club during this trying time. Thank you and please stay safe!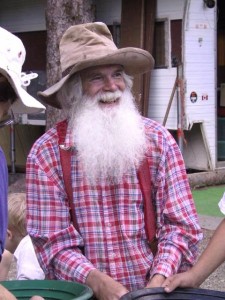 Meetings are held the first Tuesday of every month except Jan., July, August, and September. The meetings are held at 7PM at the Peace Lutheran Church.
(1204 – 30th Ave, Vernon, BC) (Meetings are now canceled until further notice due to Covid-19)
Come join us every year (except 2020 due to Covid-19) on the May Long Weekend for the BC Open Gold Panning Championship in Enderby BC! Click here for more info! This is a very family friendly event with lots of fun games for everyone. Come try your hand at winning a gold nugget!
You can download the results of the 2019 Championships by clicking here. (Adobe PDF File)
2019 Raffle Prize Winners:
1st – Nugget, Ruth Hulzinga ,Vernon
2nd – Metal Detector, Stephanie Morrison, Calgary
3rd – Nugget Bracelet, Gerry Morrison, Vernon
4th – Gold Panning Kit,
Please take a few minutes to check out our site, and we hope to see you at our next meeting!